NJ Stargate con day 3 pt 1
December 24th, 2008 (01:12 am)
current mood: blah
At last day 3 of the gate con
----------------------------------------------

Day three Pt 1
First up I did not go to the breakfast and auction with Jason and David, wanted to get lots of rest for what would come. And from what I heard it was a good thing I did since everything served was awful.
Went to get my photo Op tickets and while waiting I deliberated on doing the goofy one with Jason. Finally I gave in and got two for him.
First up was a cute David Nykl vid
http://www.youtube.com/watch?v=RmgKtzqS90Y
When David came out he got the town we were in mixed up and wanted to know if the vidder was there, but they were not.
The he took pics of us for his blog.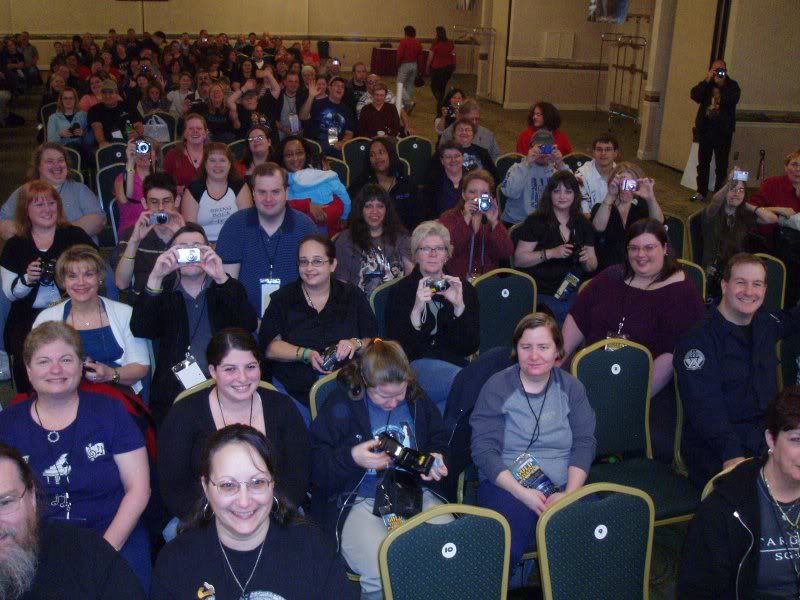 Someone asked him about the accent and he said it was natural for him to go into it since he was born in Prague. And while he was talking dropped in to Radek speak "Talk Zelenka to me" and everyone laughed. Once and awhile he will forget to talk with it and will have to reshoot the scene.
http://www.youtube.com/watch?v=AyH20oaOLLk&feature=related
He would love to do Dr. Wexler on Eureka again.
He enjoyed his stint on Sanctuary even though he died in the episode he was in.
There was going to be two different versions shot for "Letter's from Pegasus" as a test one in English and one in Czech. They did the Czech one first and the director loved it so they kept that version since Radek is sending it to his family so it made sense it would be in his native tongue.

He had no idea what was going to happen to his face and hair in Critical Mass…but he loved the outcome.
I asked him what the hardest episode that he was in to do and he said "Hot Zone" because it was filmed in August and poor Paul McGillion, who had a lot of technobabble and he was in a biohazard suit and the mask was steaming up and his face was disappearing because it kept steaming up, it was funny, and once they were done shooting the scene Paul would rip the mask off in order to cool off and breathe. Unfortunately the way the studio is arranged they freeze out stage five (the gate area) while the other sets get hotter.

He wears weak reading glasses to read (duh) and he auditioned in them and I guess casting liked the look since they had pairs made for the show.

Someone asked him to do his imitation of Joe Flanigan and he said it would just end up on the internet I said "it was already on it" and yes you can hear me say it on the vid
http://www.youtube.com/watch?v=hiH9L0BNgbQ
He wondered if Joe did one of himself.
Todd is his fav Wraith on the show.
Then it was time for him to go and our turn to head out to get our photoOp done with Jason.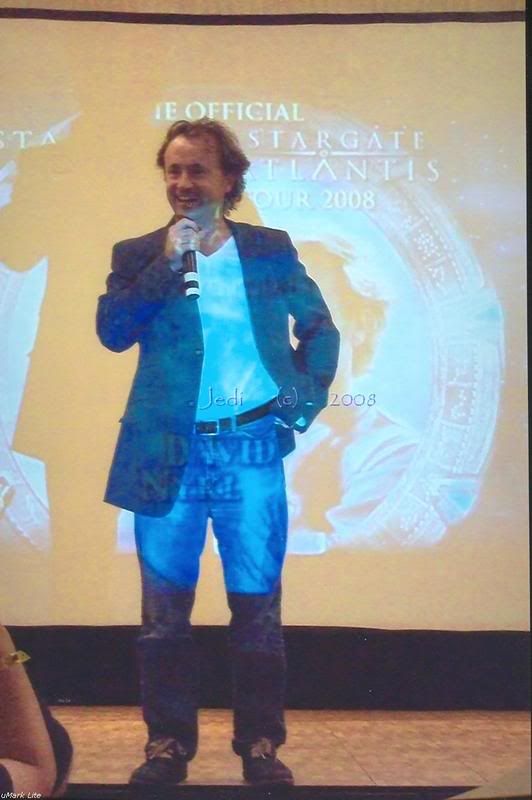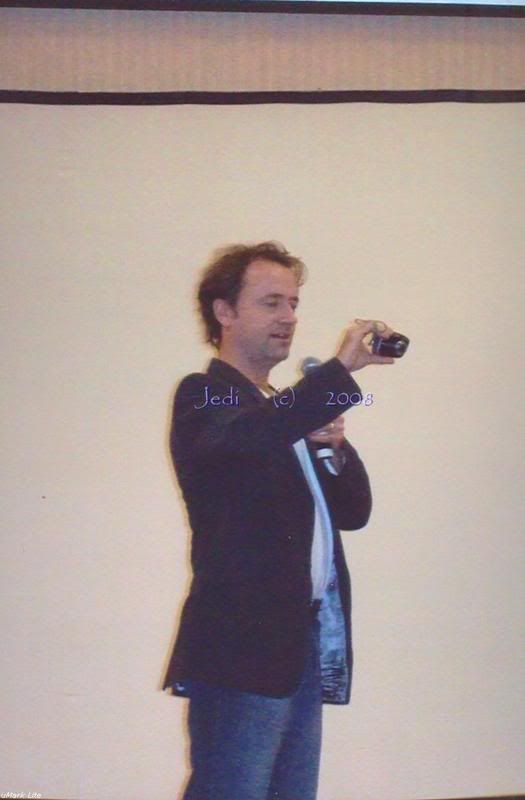 Him taking the blog pic from my view.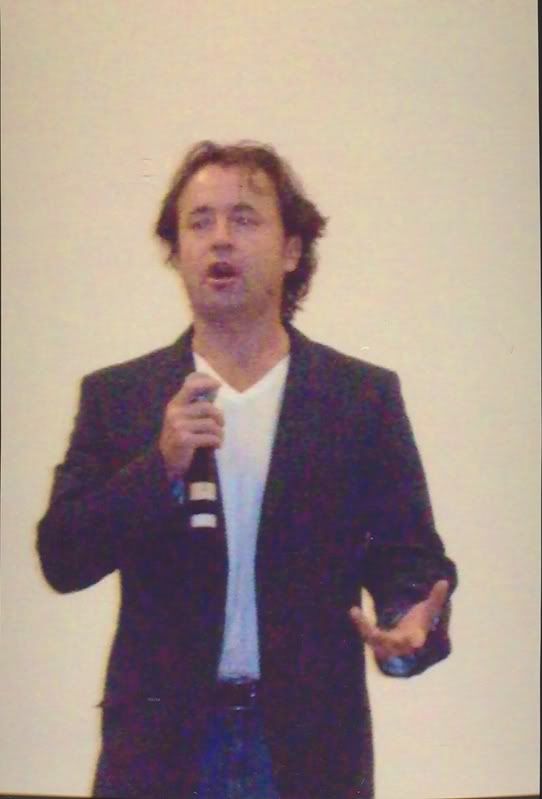 The line for the photoOp was the longest I had ever seen it. I chatted with the mother and daughter I had met day one and soon we were asked to enter the room while we waited for Jason to arrive. I told them about the staged pic I was going to do and they got a kick out of that.
About 5 minutes later in walks Jason and I just about died right then. The mother and daughter went first one each with him alone and then one with all three. The one with all of them in it was hard to get since they were at three different heights. Then as they walked off Jason stopped them and gave them each a hug.
Then it was my turn first up was the standard side by side and then I told Jason what I wanted to do for the staged one…he said "OK lets see your fist" so I showed it to him not even seeing what he was doing and click all done. Loved the way the pic came out and since Jason never moved closer to me it was the angle he was in that made it look like I had hit him. Then he gave me a hug and I just about lost it.
I just made it back to the main room for the trivia contest. I stumped the panel and the audience with this question " What was Sheppard's last line in The Intruder" no one knew the answer was "Ladies" so I won another prize (a Shep AF).
And then the MoS told me I was to be on the panel, so because of my knees I had to sit on the stage. The first 3 we got wrong and then the others got 2 right (SG1 stuff) and I helped get the last three answers and we each won $100 gift certificate.
Then came the last auction of the weekend there were lots of stuff I wanted but was over bid on them. Then toward the end a win at last!! With my gift certificate I got three autographed pictures for the going rate. One was of Teryl Rothery, Chris Judge and Michael Shanks. I kept the MS one and gave the TR one to the person that bumped into me (circled in light blue) and kept running into each other over the weekend. The CJ one I gave to a cute little girl whose mom and grandmother were sitting 2 seats down from me as a bday gift to her since she had turned 3 the night before. (circled in red)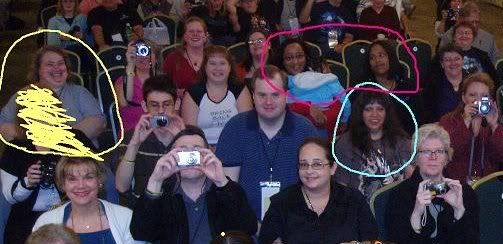 And yes I am the one circled in yellow.

Then I went a grabbed something quick to eat and made it back with time to spare for Jason.
I noticed the mother and daughter friends nearby and the daughter was in tears, I asked the mom if everything was OK and she said her daughter was overwhelmed from meeting Jason.
Boy was she in for a shock from things to come.