NJ con report day 2
November 14th, 2007 (09:31 pm)
current mood: sad
NJ con report day 2
Nov 4th

Even though I was dead tired from the day before I bet I got around 3 hours sleep due to the mattress (it was worse then a sleep sofa to be on).

Then I was shocked to see Vince mug having a fling with the rooms mug


I put him back into his spot in the suitcase and put her back in the bathroom where she lived.

I took a bath to get my knees ready for another day of walking, standing and sitting and headed down for breakfast. There was a brunch and a silent charity auction with Cliff Simon and Michael Shanks but I thought there would be nothing for me to eat like the night before for the desert thing so I went to the restaurant and had some cereal and on the way to the main con room I spotted the people from the night before at the same table we had and they wondered why I had not shown up before hand…I told them I was trying to get more sleep since I did not sleep much that night. Any way Cliff was still there at the far end of the room but I spotted Michael not too far so I grabbed a chair and listened to him talk about the other shows he was on (The first I remember him on was Highlander: The Series), he looked very tired and most of the time I could not hear what he had to say.

After 10 minutes I had to leave to see Katie Hewlett and on the way I decided to get an autograph ticket for Alexis Crutz who decided to do another signing that day and went in to get a pic for him to sign.

After a very funny Atlantis vid Katie came out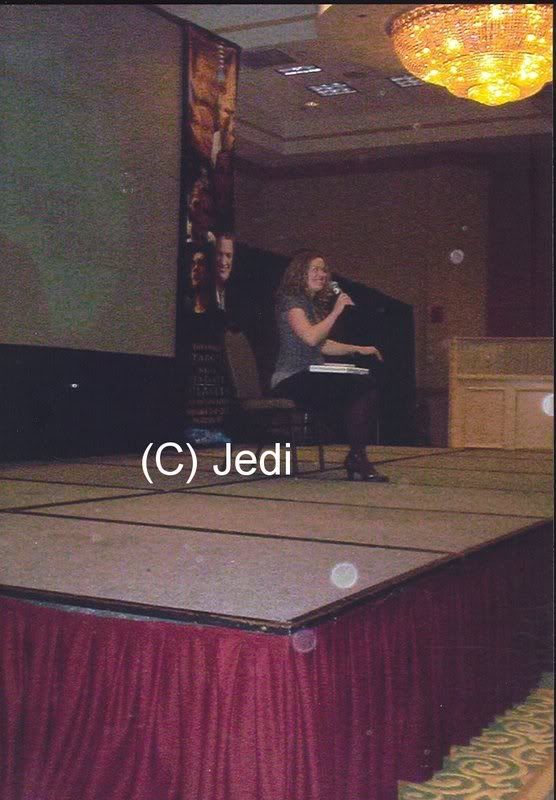 .
She said that she was nervous since this was her first con without David around. She talked a lot about the new play she was doing with her best friend called "Humans Anonymous" and read a bit from it. She talked about working on Atlantis and ADB and what David was like to be around (a total nut case) .


She was very happy to be a first time Aunt but had yet to see Baz because of the play, but she said that she would get to see him soon.
This time during the Q&A they had mikes on each side of the stage so it took a lot more for me to get up to it to ask a question…but I did. I asked her "What was more fun to work with her brother with Atlantis or ADB?"


and she "Atlantis, the reason was because David had so much to do on ADB so they were not together as much as on Atlantis, and she liked working with the other actors on it as well.

She then talked about an upcoming Atlantis epi where she got the giggles big time. SPOILER for epi 4x9
She and David were standing in a hallway and there was this huge explosion that blew out a wall behind them (part of the scene) and she had never been around explosions before and even with earplugs in it was very loud ….and she forgot to say her line in time and just started giggling. Then Joe and Jason came running in to say their lines and Joe got his all mixed up..he was to say "Daedaius this is Sheppard" but instead he said "Sheppard this is Daedaius" and Katie was like.. "Daedaius? Your name is not Daedaius" and Jason was like "tee hee" and they all started laughing.

Then we got in line for her autograph and then anyone that had a ticket for a Op headed up to have their PhotoOp with Cliff Simon done..and I did. Boy is he tall; he shook my hand when I walked up to him for the shoot, such a nice guy.

Then on the way to where everything was held I stopped and got a quick snack and watched some more vids (all Daniel ones for the most part since he was the last guest of the day)
Here is one of the ones I was able to find:
Funny Daniel and Jack vid get ready to bust a gut laughing [url]http://www.sendspace.com/file/r56h2c[/url]

And then came Cliff !!



He was very funny and talked about what he liked doing in his free time "sailing" and who he would love to zat "Teal'c because he was first prime of Apophis"

And he talked about the hard scene he had to do with himself and being 5 other Ba'als in a shoot and what a challenge it was for him to get everything just right.


Then I got up to ask him my question…that did not go like I wanted it to. I said that I had missed the charity auction earlier and would give him $20.00 for his charity if he would remove his shirt


He was like ummmm and then his "person" came running up and said "No! We can't do any nudity" since when is taking a shirt off on a guy nudity? Oh well I tried.
Then someone asked him why in "Summit" you can tell where everyone was from except for Ba'al?" and Cliff said "because no one knows…he is an enigma" and that he did some research into Ba'al and found out the name was short for Beelzebub and that it fit him to a tee. After he did some more questions he had to leave.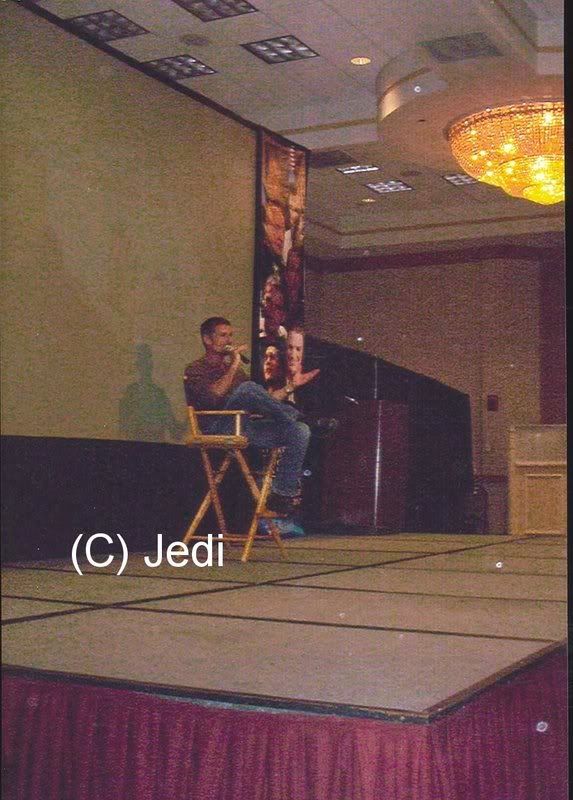 They reset the stage and then, the autographs with Cliff and Alexis (Skarra). I said to Cliff "that you not Yu were my favorite system lord" and he smiled at that. Alexis looked much different with very short hair and then they both left.

They had another auction (no bidding from me this time) and a trivia contest.
And just before he came out they played this vid:
Sweet Daniel vid [url]http://www.sendspace.com/file/j0loe3[/url]

Then came Michael!!
He like Paul entered right in front of me.


And yes his hair was very long and messy looking.

He talked a lot about SG-1 and how he got the role (not because he copied James Spader's role)


He was asked who he would like to zat he said that someone warned him about that question. And then said the writers, who came up with the scene in "Fallen"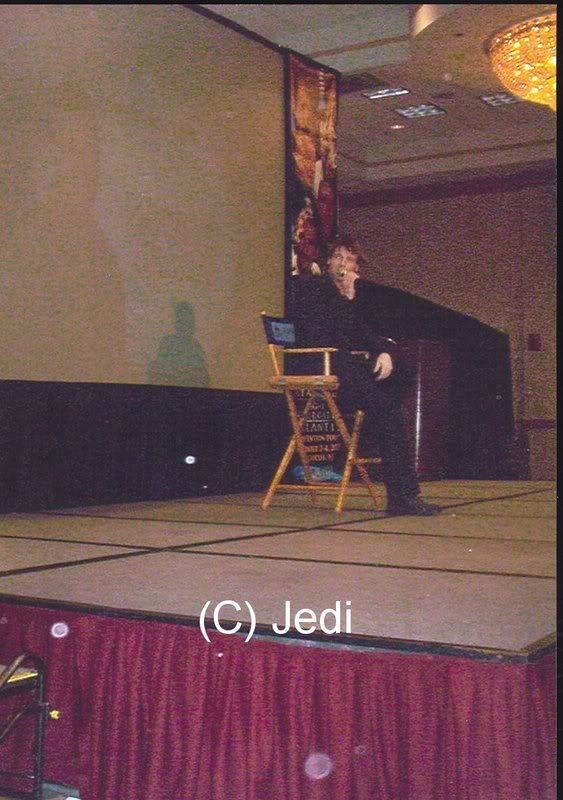 Since it was freezing out and he was naked.

I took a few more pics of him and then I had to leave,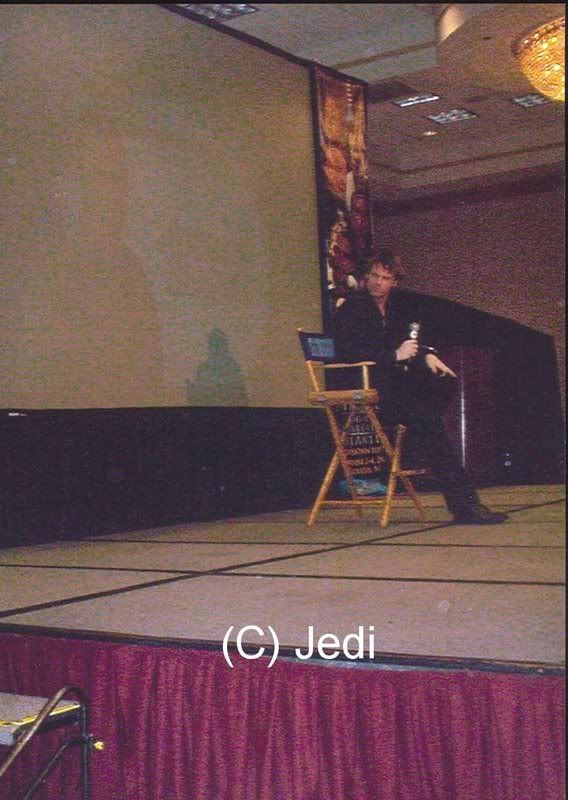 because it was getting dark out and it was a long drive home.

Mom and dad where waiting in the lobby already even after I told them not to be there before 4:30. But hey what can you do. We got my things and after a longer ride home due to the traffic we arrived home around 8:00 none the worse for wear.

Here are the autographs I got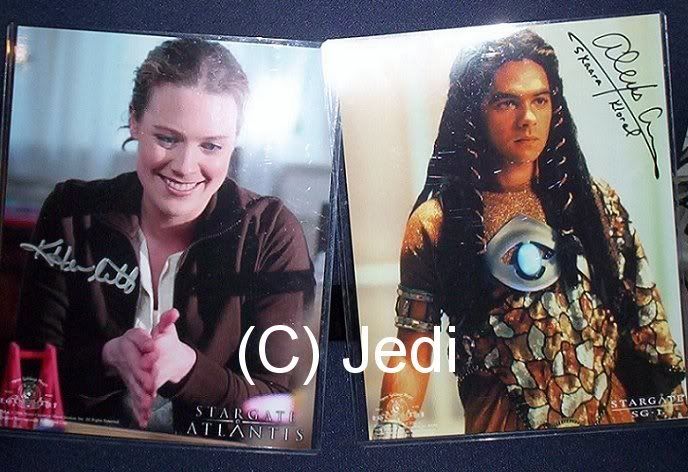 And here are the plates I won


DH


S3 cast


JF


RL


JM


TH

All I can say is I had a wonderful time and I hope I will be able to do it again sometime in the future.

End