Ny NJ Stargate con report day one
November 13th, 2007 (12:32 am)
current mood: bouncy
NJ con report day one:
Sat Nov 3
After seeing a great Atlantis episode the night before I left and getting about 5 hours sleep (good thing I was half asleep most of the time because my alarm never went off, seems that I set it for 7:30PM and not AM).After a quick bath I lugged my gear down stairs and at 8:38AM we started or drive down to NJ. After getting turned around (dad never gets lost) we arrived at the hotel at 10:30, while dad went to park mom and I went into the hotel to get me signed in and get my room. As we were going into the hotel I spotted Tony Amendola leaving who was there along with Alexis Cruz the day before.

Got checked in and we all headed up to my room (you could see the Empire State Building from my room on the 11th floor). I said goodbye to mom and dad, and then headed to get my lanyard for my ticket and the tickets for the PhotoOps I was going to get while I there.

At the registration desk the gold ticket holders were given a pre-signed autographed photo from Don S. Davis and a SG-1 tote (since he had to back out because of a movie he was doing). And then I headed into the dealer room to get pics for the autograph sessions that day and some other goodies as well.

Here is Vince mug with the pic of Don S. Davis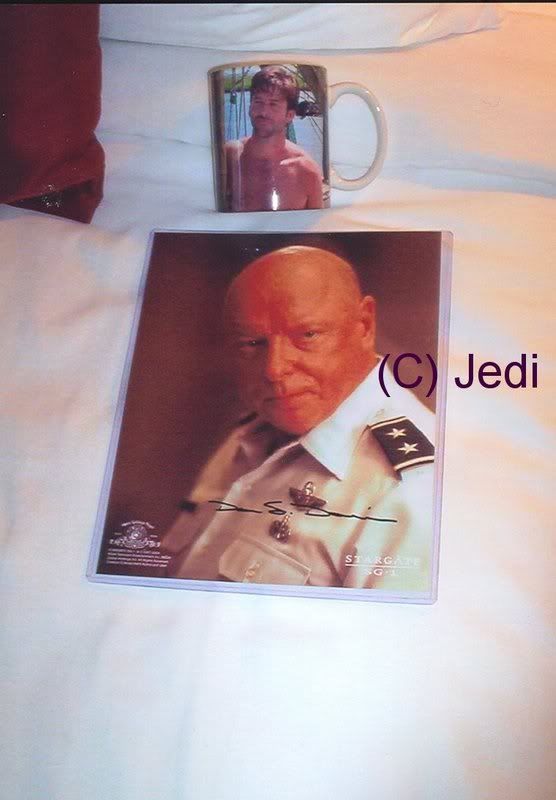 And Vince mug with one of the shirts I got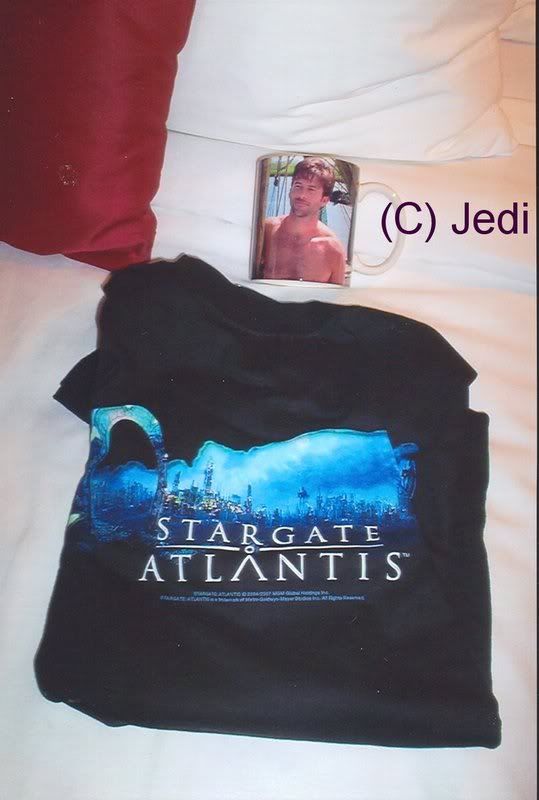 Vince mug decided to stay in the room and get some more sleep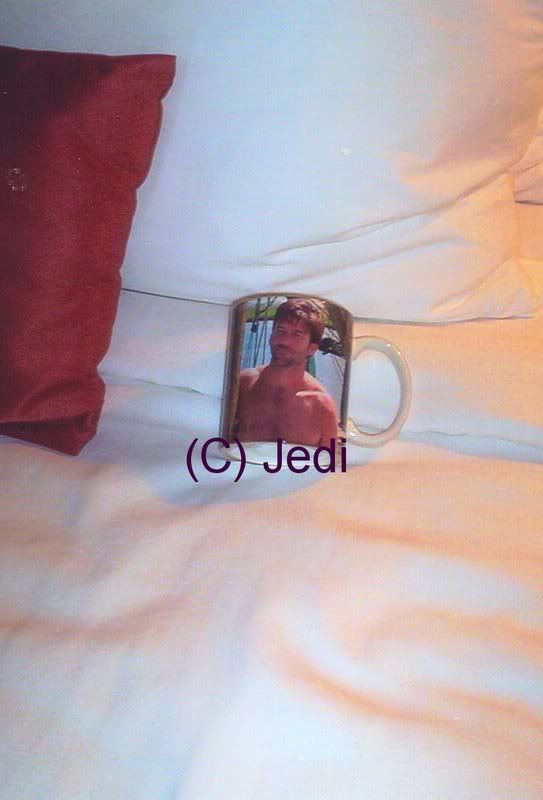 And he checked out the room service menu as well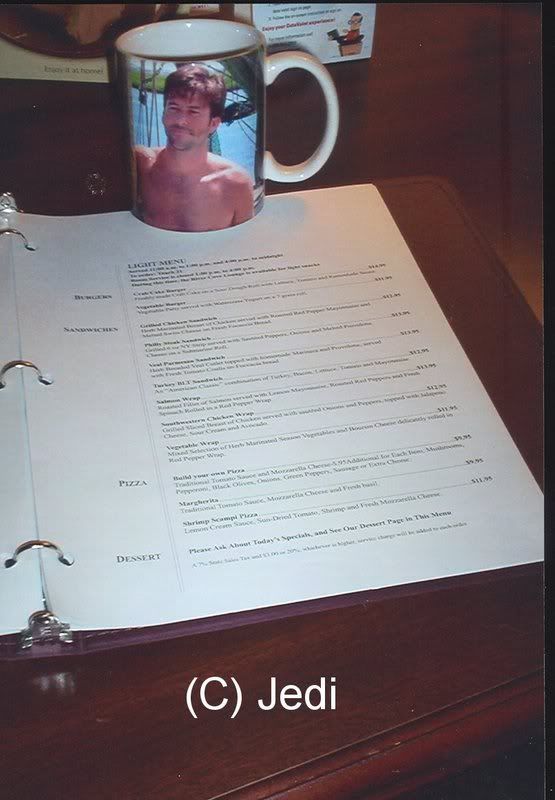 I headed down to the main floor for a quick lunch. And then I headed to see Jay Acovone (mjr. Charles Kawalsky of SG-1). What a riot we was, he talked about a garage he was working on for someone. It was to be a small one and was to take 3 weeks to build, but he is still working on it and at almost 8 weeks is still not done and looks like the Taj mahal because the owner keeps adding things to it everyday.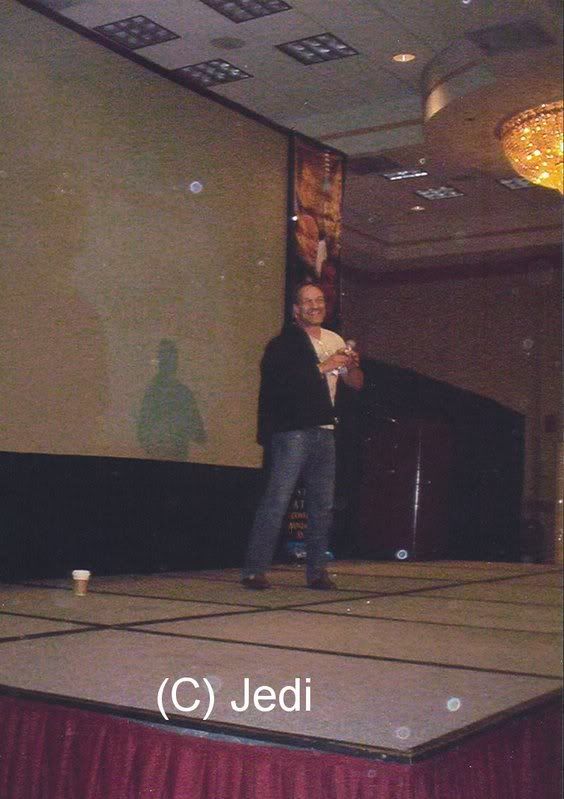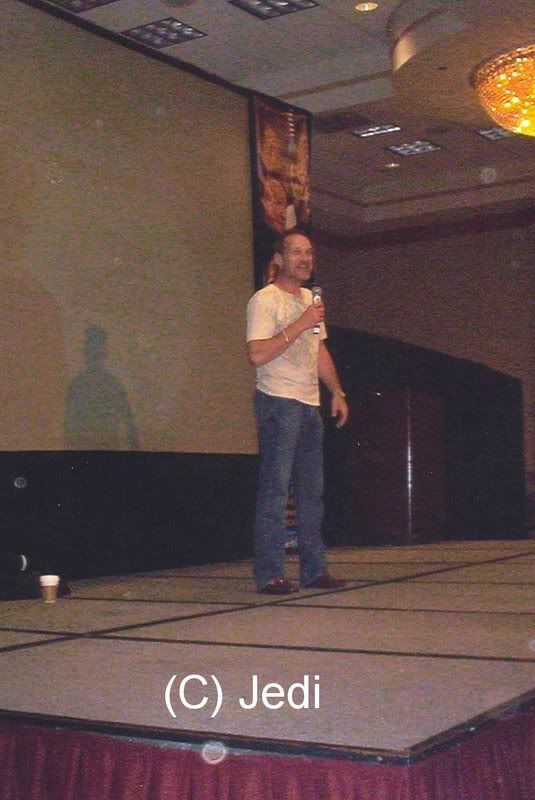 He also talked about his home town of Mahopac and the funny way it got its name (you had to be there to get it)

He talked about doing a scene from "The Enemy Within" and how he wanted to stunt person do it because he was scared he might hurt Amanda. Well they said it would look better with the small space they were in to have the actress do it. So he grabbed Amanda and flung her to the back of the elevator and heard a whimper as she it the floor and he had to keep looking strait ahead until the director called cut and he turned around and saw Amanda shaking on the floor and he yelled "OMG I killed the actress!" she has not gotten him back for that, but she won't let him forget about it either.

I asked him what the biggest prank played on him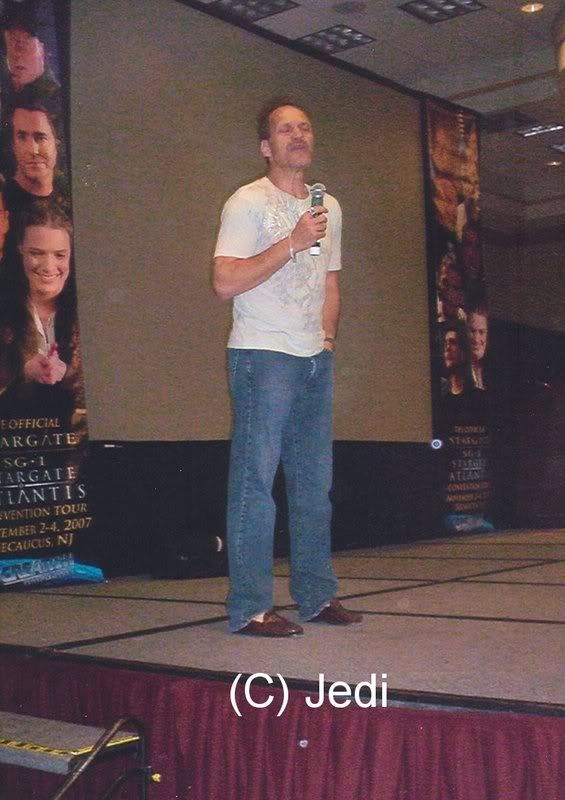 and he said it was on the show "Sliders" and it had to do with horses, he as a big fear of them because they are so tall and make odd noises. He was told that he was just going to walk the horse from one wrangler to the other were the horse would be shot (jk said Jay) and that would be it. Well he got pranked by the shows producer and his agent and manager when he got that day's rewrites and it said that he picked up the girl flung her behind him and the horse rears up does a few doughnuts and then speeds off set. Jay was like WTF!! He called his agent about it and they were like sorry you have to do it. Boy was he relieved when he got to the set to find out it was nothing but a joke.

Then some kid asked him "who he would love to zat" and he said on the show no one but he knew of someone else he wanted to get with one. He told us that he is a face cream product whore and had bought some uber expensive cream at the Charles de Gaulle airport and the customs lady would not let him take it on the plane because he had no proof that he bought it. So as he was storming away to get on the plane without his cream, he thought to himself there was no way he was going to let her getaway with taking his cream, so he stormed back opened the jar and rubbed the cream all over his face, body and down his pants, then he slammed the jar back down and gave her a look of "there you want it come and get it" and walked onto the plane covered with chunks of the cream all over him. After a bit the cream started to bleed through his shirt but he was still happy about what he did to the customs lady.
Then it was time for Jay to go



Saw some music vids and here was one I was able to track down: Letters_from_Zelenka
[url]http://www.sendspace.com/file/tx1vg6[/url]

Then came a 13 minute film called "Breakdown "it was so funny because it was so cheesy. It had Amanda Tapping and Garry Chalk and others from SG-1 and other shows in it doing some kind a script read for a disaster movie.

After that they reset the stage and had a auction and I won a 5 piece set of Atlantis plates that go for $125 for only $40!!! Good thing I got them that day because the next day they went for $100.

Then came Paul!!
He came out right across from me from behind stage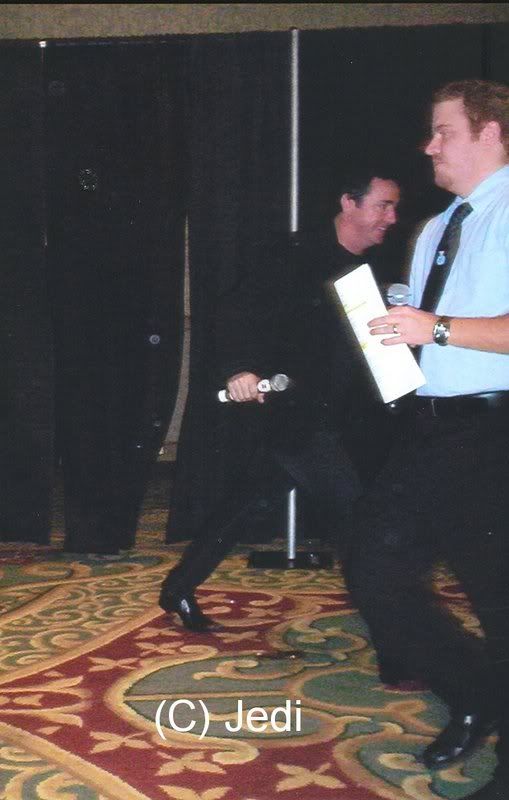 and said as he walked up onto the stage "hello you cheeky buggers"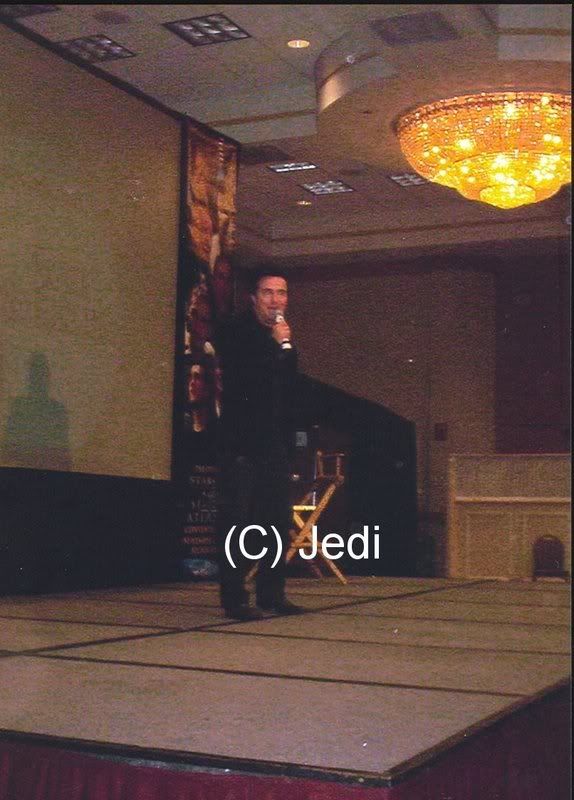 He was very happy with the "Save the Carson" campaign and was a bit bummed that he did not get the role of Scotty in the new Star Trek movie.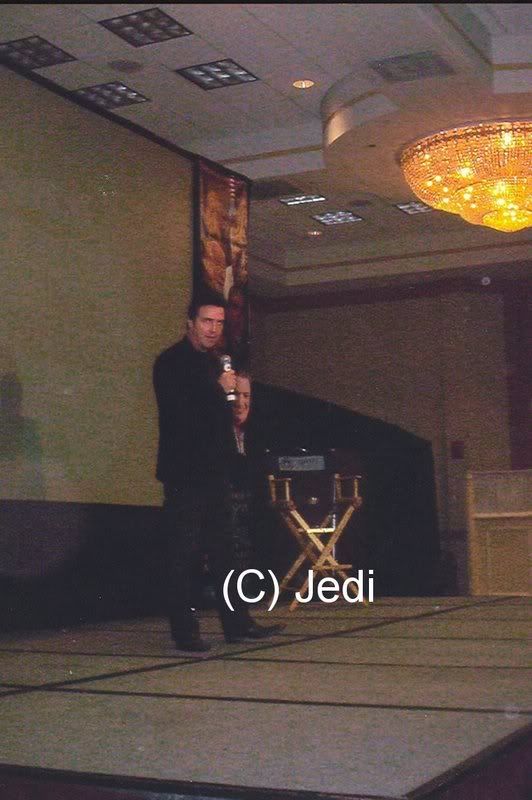 He talked a lot about Sunday and his return in S4 (he did not tell us much on it or the epi name) He did talk about the kiss with David Hewlett in Duet (felt like kissing sandpaper) and that David was the one kissing him not other way around. He joked that Joe Flanigan used more hair gel that he did and the joke Joe played on him and DH in "Phantoms" by having a very heavy extra in the stretcher they were carting around and during the brakes Joe would add more and more rocks to Paul's pack until it was like 40lbs in it.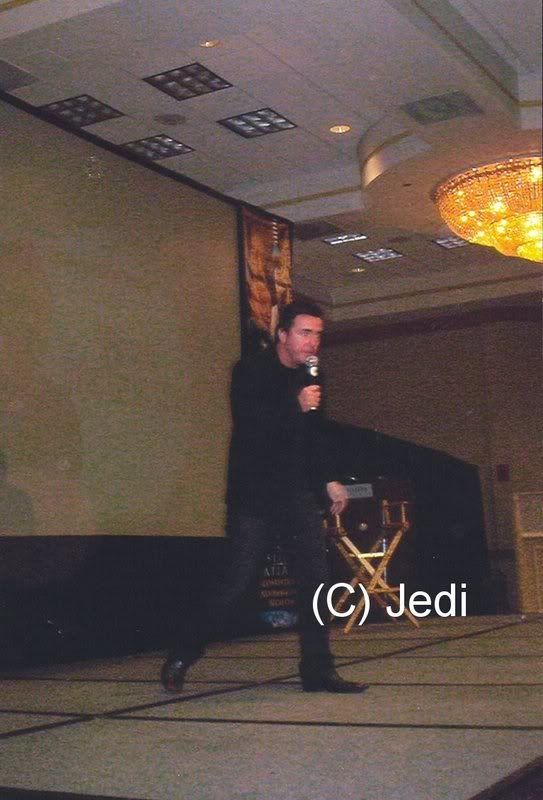 Then I asked Paul to say something medical in Scottish and he said "like the Iratus bug retrovirus, oh nurse, thank you"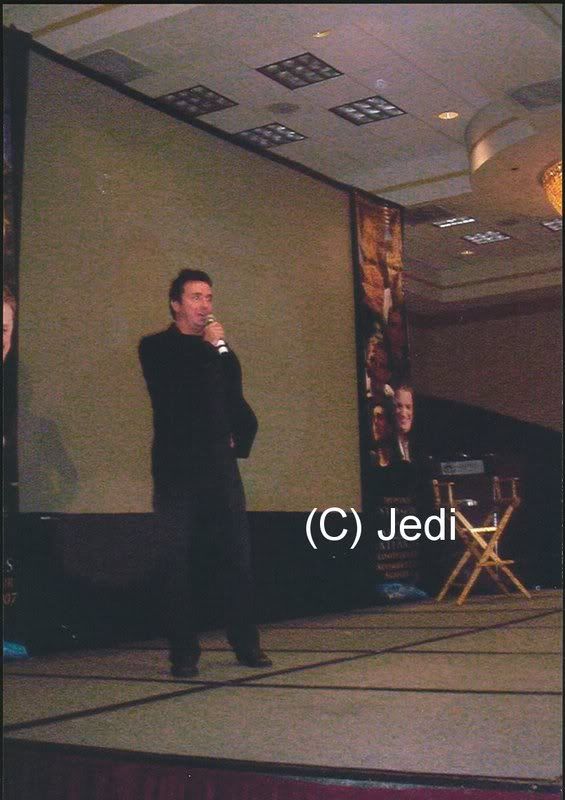 while looking right at me….THUD….

He talked a lot about A Dogs Breakfast and being in drag for parts of it (wondering how we can walk in heals all day) He said he would love to have the script writers put Rodney in drag for an epi just to get back at what he did to Paul.

He talked about the scene in ADB where it had been pouring for most of the day and the ground was soaked and here is David on the ground totally naked with some soap bubbles on him and Paul in heals is sinking into the mud and he said to David "this better be funny because this is terrible and you look horrible".



He told us that when he was born he had a full head of hair and his mum was like "Oh he looks just like a Beatle lets name him Paul.

Then up to my PhotoOp with Paul and while waiting in line I met some people from West Haven there, but I did not talk to them for long because I was told to go to the front of the line (with some others already there) due to my cane. There was another lady that had a cane as well so I started horsing around and started dueling with her (this happened every time we spotted each other) When it was my turn we had our hands around each others backs, and I was like "Cool a pic with a fellow Scott" and he thought that was neat.

Then back up to my room to put the plates in a safe place then back down for more vids and a costume contest….winners were the Wraith Keeper and Ba'al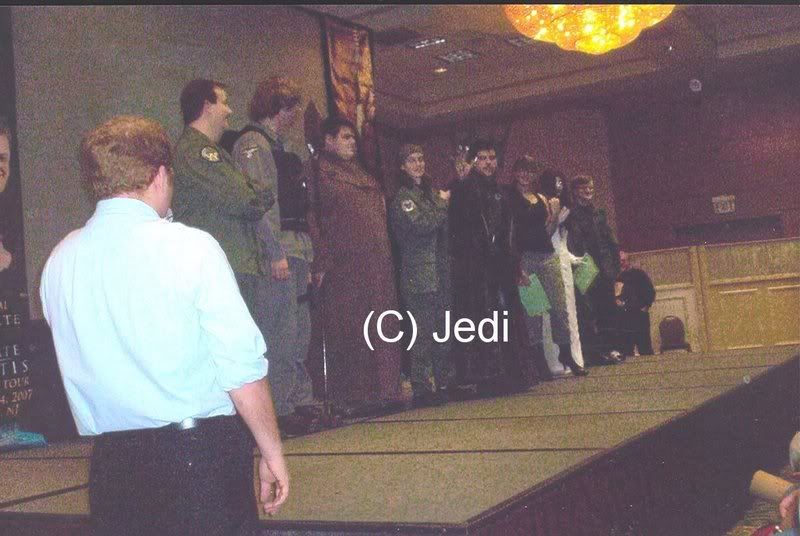 And then the autograph session with Jay and Paul… I snuck this pic of Paul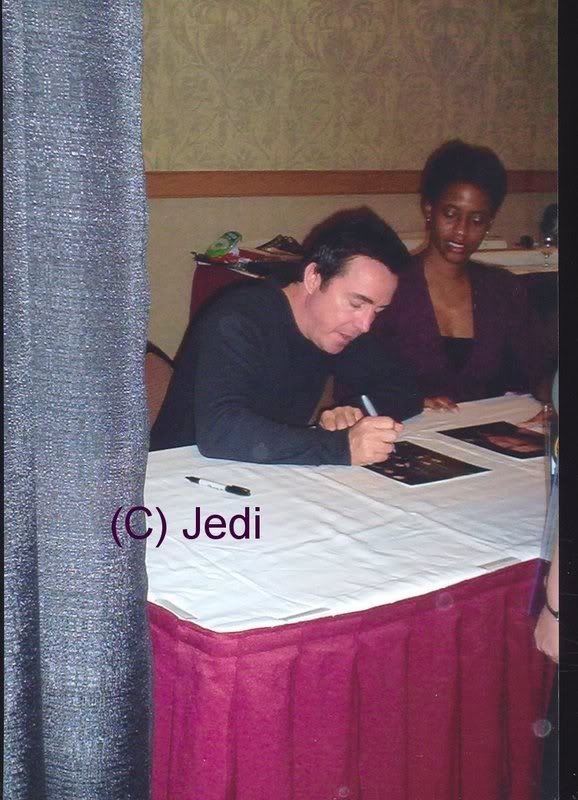 and the lady next to him glared at me and shook her head at me when I tried to take another one.

Then a quick dinner and then back up to my room for a breather when I found Vince mug watching TV
and I quickly found my fav Britcom to watch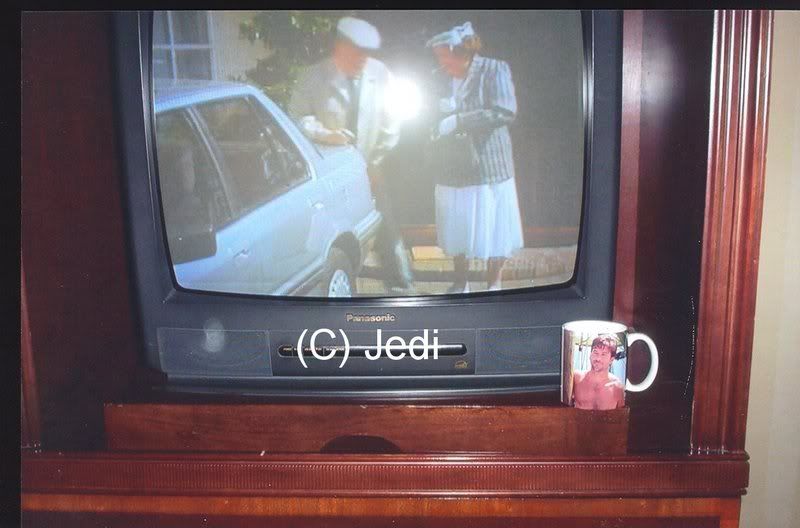 before heading back down for the dessert and centerpiece contest.

While in line I dueled with that woman again and cringed every time the lady in front on me turned around to chat…(major bad breath) and then I spotted Cliff Simon walk by with his "people".

I was like OMG!! Ba'al just walked by!!

Then they let us into the ballroom where we were going to have the dessert and centerpiece contest. I found a table close to the door so I would not have to do to much walking back to the elevators, they did not have much for me to have a the dessert thing so I just had a soda.

Then after 20 minutes they announced that Jay and Paul were going to be judges for the contest and would be going around to all the tables to take a look at them and then they walked to a flurry of camera flashes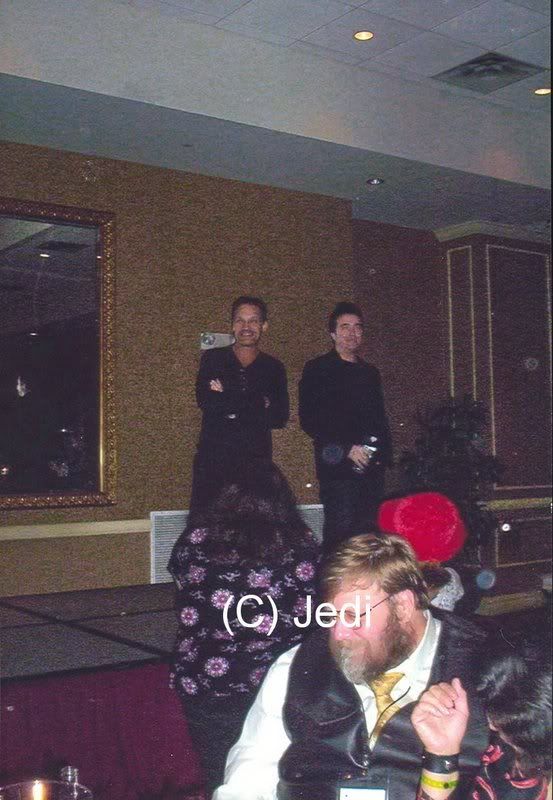 And then they started to make there way around the room from different sides. Here is the pic of the centerpiece at our table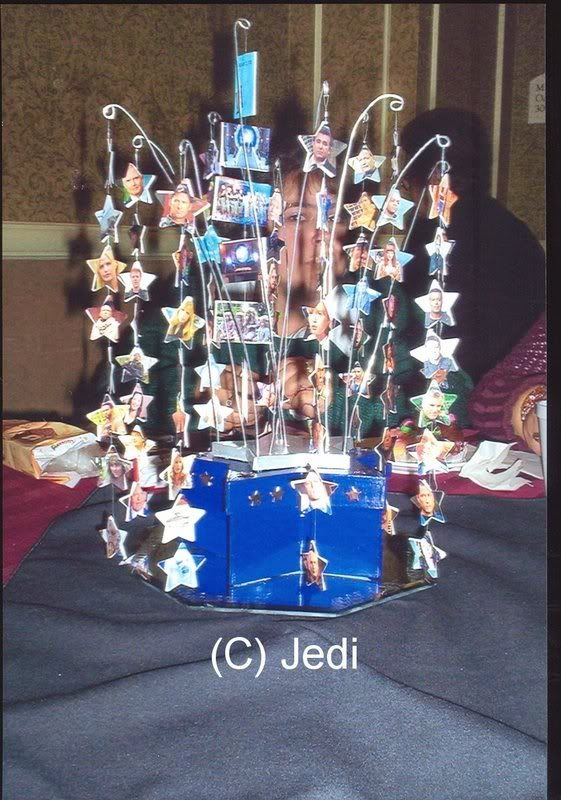 It had every one and thing on it from SG-1 and Atlantis (ie. Cast members, allies, bad guys, aliens and assholes).

Any way I watched as Jay and Paul made their way around the room and we had 3 empty seats at the table and I was betting Paul would take the one nearest to the person that made it. I was talking to someone at the table when I hear "So how is everyone doing tonight?" I look to my left and there is Paul sitting right next to me….THUD***. He asked about the centerpiece and he found his picture on it, all them time I was going nuts trying to act normal and not like some crazed fan.
Then he had to move on to the next table and I pulled his chair back to where it had been and I touched where his bum had been and grinned.

And as you can see I got a Shep fix that night as well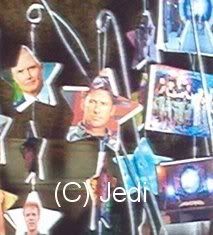 And then Jay came over but he sat across the table from me, he asked more questions to the people at the table then Paul did and joked around.

Then they went and told the person who they liked for the centerpieces (we did not win). One was of a Pyramid complete with real sand and some cereal boxes with covers that were hand made to look like real cereal boxes (Like "Life" in the Pegasus Galaxy so good even Dr. McKay likes them)

Then off to my room for a long hot soak and Vince mug checked out the next day's schedule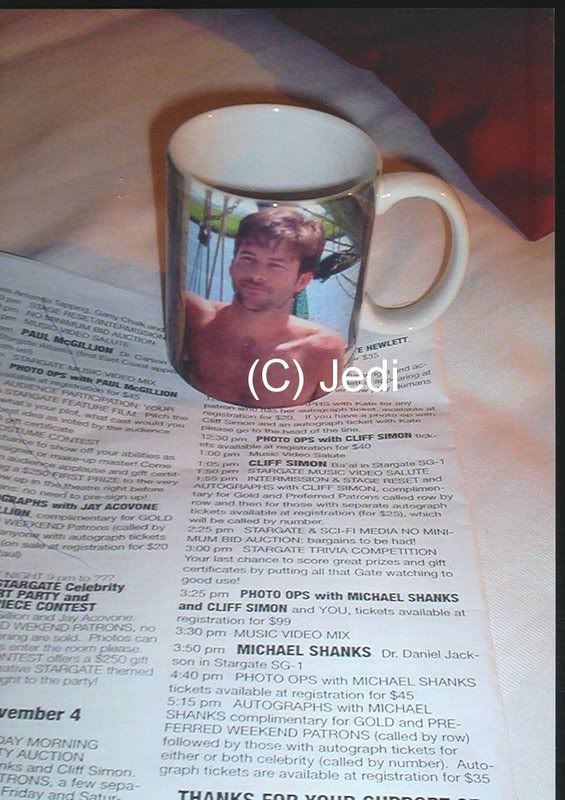 and then after the news we both hit the hay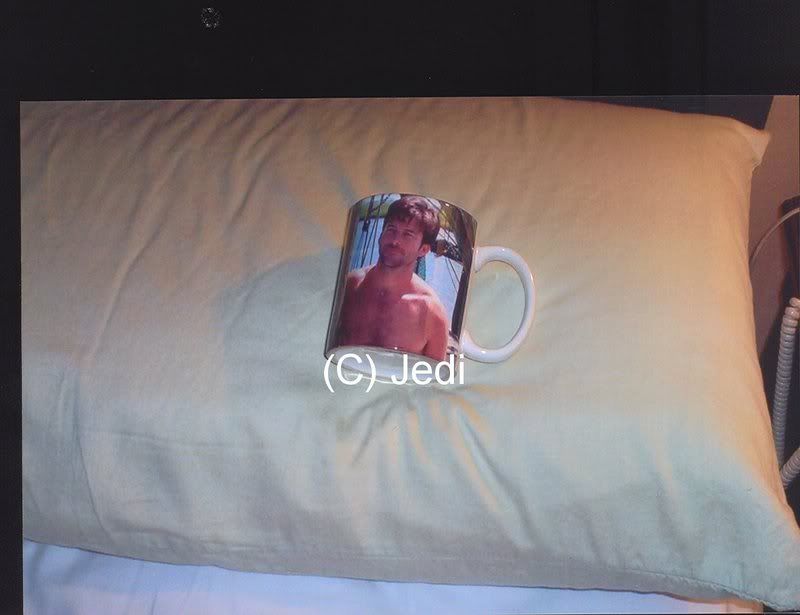 Night…….

Day two con report coming soon