Shore Leave 31 con Day Two
August 31st, 2009 (12:39 am)
current mood: bored
Shore Leave 31 con
Day two
Well after a semi good nights rest I got up and got ready for the days photo ops. We were told that the hall where we were to wait in got very hot so I wore shorts and a sleeveless T shirt. After checking myself over for the 5th time I headed down to where the ops were being done on my floor in suet 209 and got in line.
One of the helpers spotted me and waved me to the 2nd in line spot while we waited for Chris to show up the other helpers were trying to find a way to keep the door to the room open and it took them some time but they got it done at last by sticking cardboard under it.
I was led into the room and given a seat behind the door so I would be out of the way while I waited for my ops to come up.
First up was Chris H, I let someone else go first while I got the nerve up to stand next to him. Funny thing is all the photos where more or less taken with the photographer on a ladder. Not just his but every ones except maybe Rachel's.
So after the first person went I went up to him and said "Hi Chris did you like the poster?" and he beamed as he remembered me from the gift. I was going to have him "feed off me" but we just got side by side and he but his head on mine, snap. I asked him what he did and he said he put his on mine and I said "Chris!" in a mock scolding voice and he blushed and said OK a real one this time. Click and I said thanks and walked back to my chair.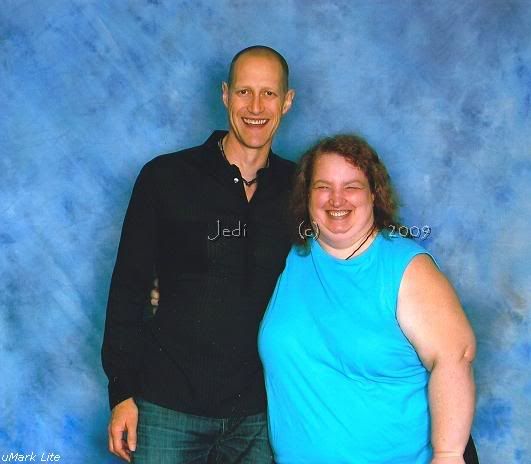 What I did not know at the time (or I would have worn jeans was the ops were full body shots so I cropped the lower half out of the pics.
The line went very fast but Chris still had to wait the full hour in case anyone came in late.
Toward the end of the hour Jason and Rachel came in for the group shots and singles. Jason looked like he had just gotten out of the shower since his hair looked damp The noise in the area where I was sitting was close to deafening from all the people chatting away. One person got out of line and walked up to me. "Are you Jedi?" they asked I was like "What?"… "are you Jedi?" Again and I said yes. They said their name that I could not hear and walked out. I found out later that it was NaniWahine.
So after the group pics with the two or three of them it was time for my op's with Jason.
We said hi to each other and we did the first one in the standard way. Click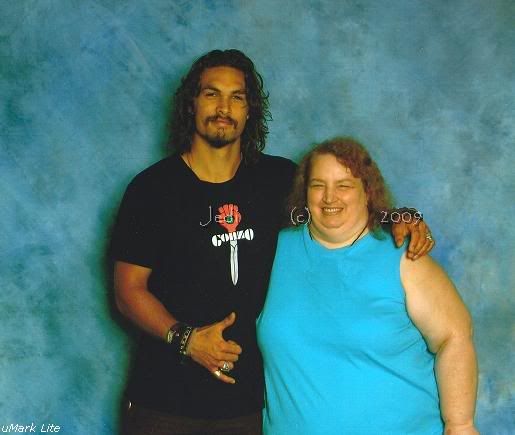 Then I asked Jason to do something for the next pic. He gave me this odd look like what. I said I want you to hit me in the face. He looked shocked at the request. I said last year in NJ I hit you so you can get back at me this time.
I got my face into the look I wanted and felt him touch my cheek and click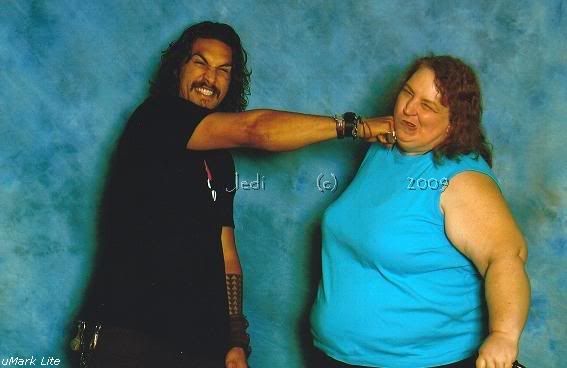 Jason looks like he enjoyed that to much.
As we waited while others had their pics done Jason took out his guitar and played it for us just to pass the time. During a lag in the ops I asked one of the helpers if I could give a gift to Jason and Rachel and they said sure. So I went and got their wanted posters out of my backpack and walked over to where they were. I said Hi I have a gift for you two that I made and handed Jason his, he just took it and tossed it into his guitar case and I handed Rachel hers. She wanted to know if it was OK to open it now and I said sure. So she undid it and she started laughing. She loved the picture I used for it and loved what she was wanted for.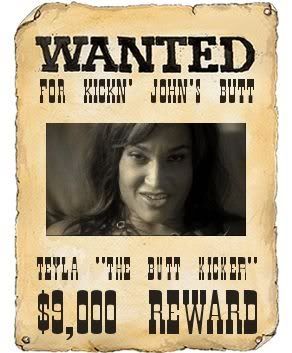 I then was told I had to take my seat because they were doing more group pics. As I was waiting I decided to get an op done with Rachel if there were any tickets left over after all the other pics were done.
I spotted Nani again and her group from the Jason Momoa forum that I hang out on from time to time and they asked me to join in on their group shot. No wonder the photographer had to be on a ladder with huge groups like that one and of course the GW crew.
The JM gang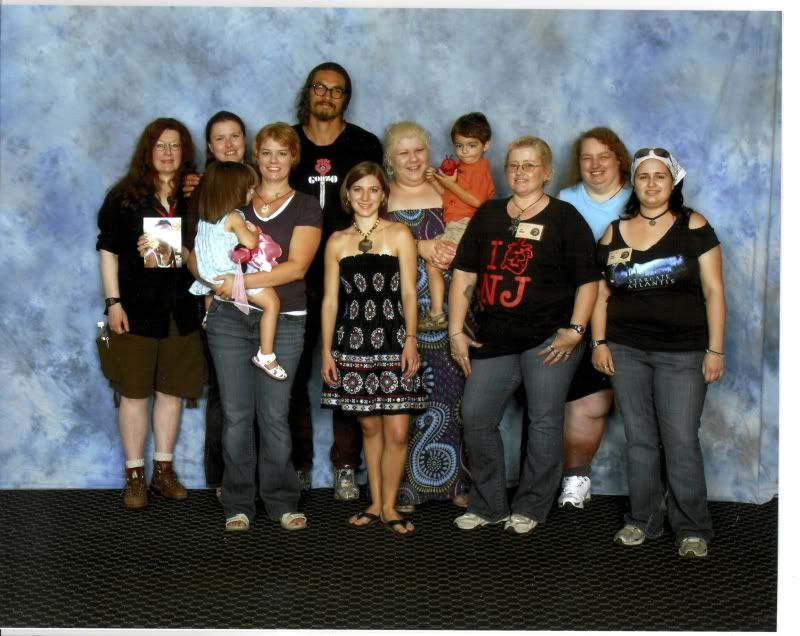 I never did see the two others I hoped to meet at the con that day from the SyFy BB and GW. Though someone did say that they spotted me and did not have the nerve to ask me my name (and it was the one from the SyFy BB that I was to meet with).
Then came the ops with the non reg guests like Vanessa Angle and the others I did not care to have my pics taken with.
I told the helper that I wanted to have an op done with Rachel if there were any left and she said OK. So I waited till the others got theirs done and then I paid for mine and walked over to Rachel.
She thanked me for her poster and we took our spots and click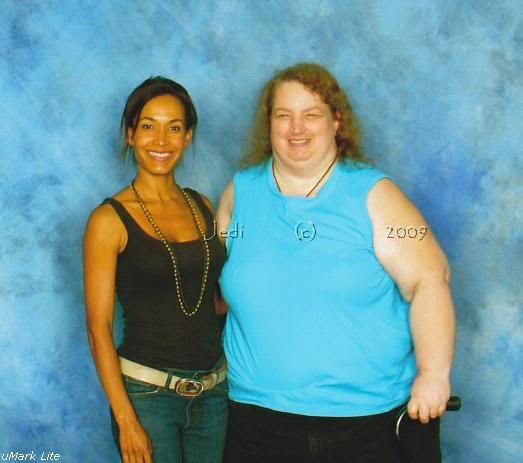 Then I headed back to my seat to wait for my last op of the day. Jason and Chris returned for group ops with Bob and Rachel.
During which Jason had to use the rest room near the front door. After he left a helper went in to grab something and came out and said "in case you want to know, he leaves the seat up."
So after all the group shots were done Ethan showed up to do his and ones done along with Bob.
Bob did his first and I waked up to him said Hi and tool my place. He said I should be on his other side since that is where he likes people there for Star Trek (I did not have the heart to tell him I was a gatter). So any way Click
I then went back to my room for a rest even though I sat from till about 2PMish. Only getting up for the pics.
I made my way down to the lower level to look for my ops that had been done first and I found my Chris and Jason ones and that was when I found out the pics were full body ones.
I then went up to the main floor and got something to eat and went through the dealers rooms to pass the time.
I then headed back down to where the Q&A's are held I saw Chris at his table and said hi in passing and he said hi back.
I got a seat two over from where I was the day before and caught the tail end of Clifton Collins and Johnathon Schaech Q&A.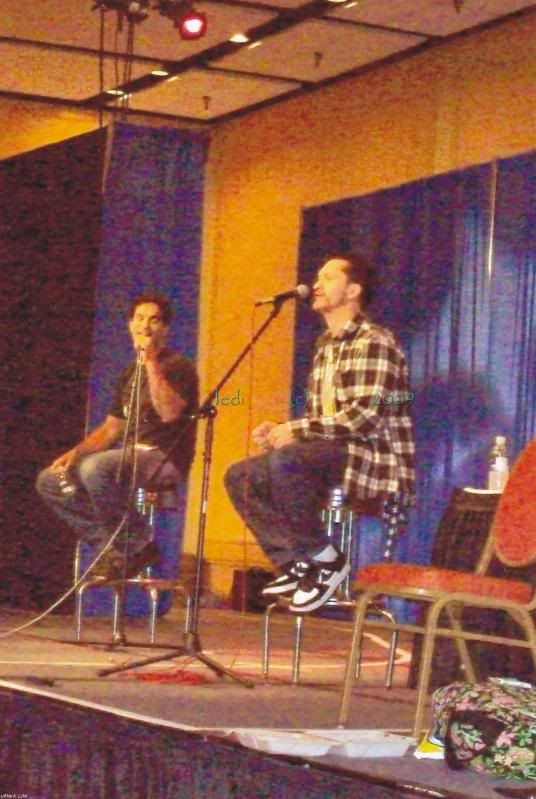 Then Bob and Ethan came out for their Q&A
Bob sang his parody song again and then they got down to answering questions after Bob said he was sorry for killing Atlantis to which we all awwwed at.
I did not ask any questions since all they talked about was Star Trek: Voyager and I never watched the show.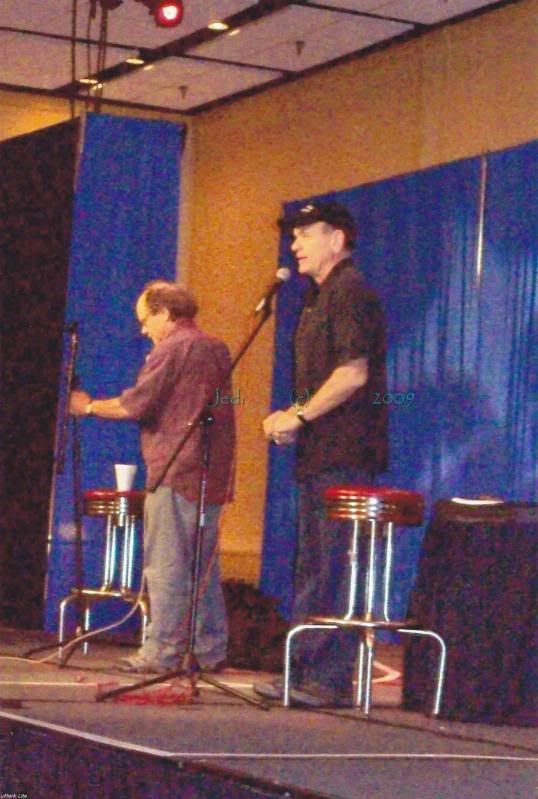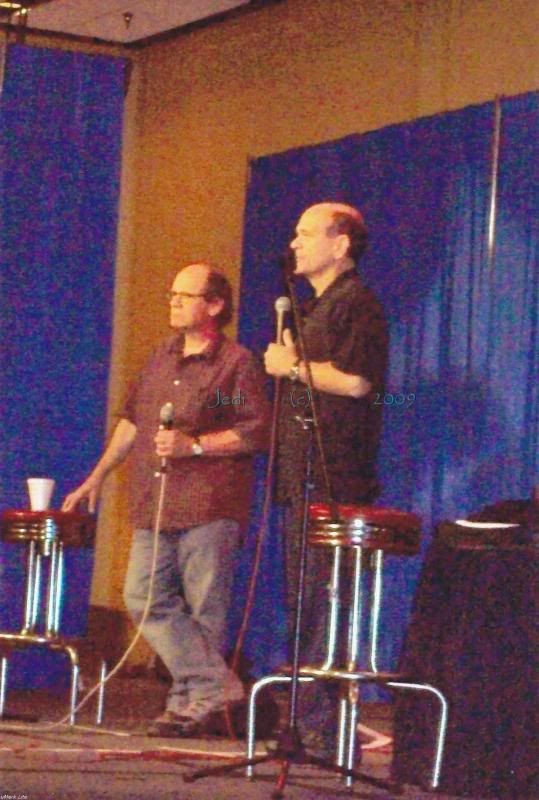 About midway through Bob showed a funny clip on how at past cons he would sign just about anything he was asked to sign:
Please sign this
www.youtube.com/watch
Not the same one we saw at the con but it is darn close.
Toward the end of the hour Bob had a mini auction to raise money for his brother's son (or something like that) that had cancer in his brain, but was now in remission and the money was to go to pay off Drew's medical expenses. So Bob brought out two signed by the whole cast of S5 8x10's. They went out of my limit very fast and both went for over a grand each and Bob got teary eyed knowing that even in the hard times we are facing we care to help others out.
After a short break it was time for Jason and Rachel.
Jason came out with a bear bottle in one hand and then took a water pitcher off a near by table at put it down near the stool he sat on. And every now and again he would drink right from the pitcher.
He had talked about how he had almost died before he went in for his read for Ronon due to a gas leak at the house he was staying in.
They both talked about the movie and being parents and Michael getting his butt kicked by a girl.
www.youtube.com/watch
Babies on the set and Joe F
www.youtube.com/watch
I asked them if they got hurt during any of their sparing matches and they both said yes and that Rachel loved to beat up on him and she laughed at that.
Someone asked Rachel why they did not use her son as Teyla's on the show…well one thing he was to old at the time they were doing those scenes and Caden is very blond haired so he could not be used as Teyla and Kanaan's child since they are both dark haired.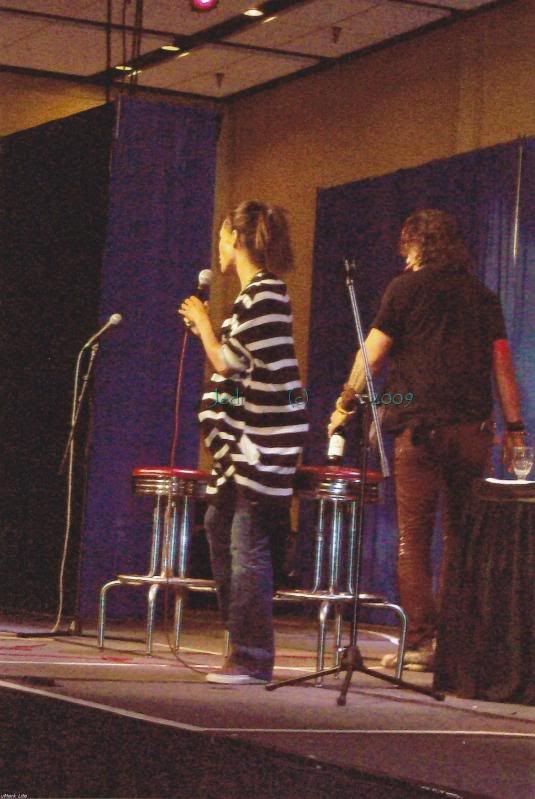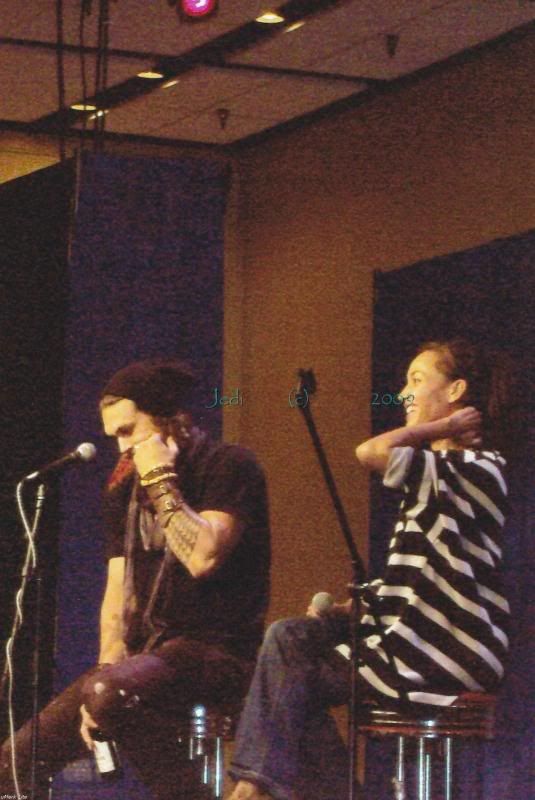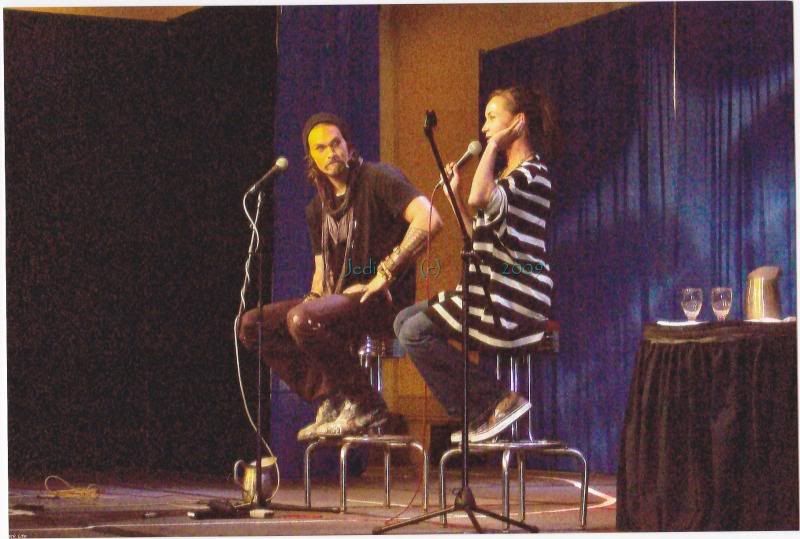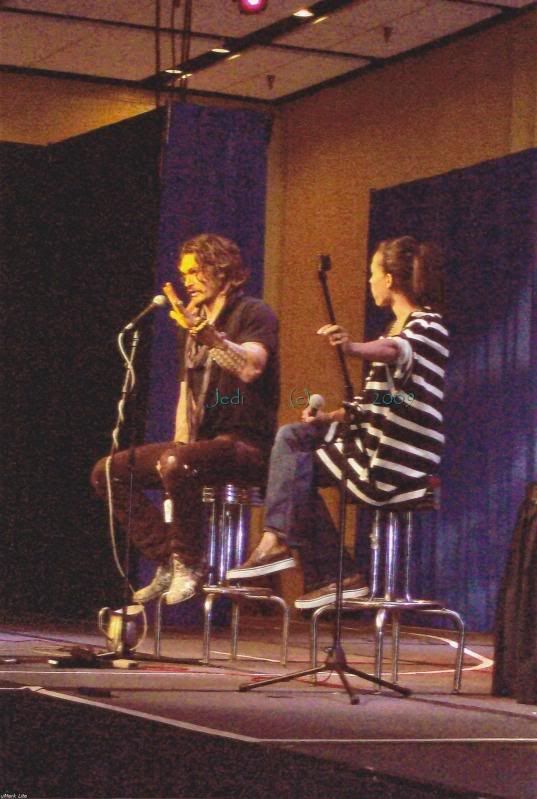 Then Jason got very somber when he talked about the shooting of Search and Rescue. It seemed that just before they went in to shoot Joe got the call about his step dad's passing, but being the true actor he is he did the shoot as if nothing happened, but knowing what happened added something more to Sheppard's pain during that day.
Once they wrapped Joe went back to his trailer and Jason went to see how he was doing. That was the first time any of them had seen Joe cry for real. And it really got to Jason and made all of us get teary eyed as well.
A fan had given Jason a mock up of Ronon's gun that he had made by hand but Jason broke it just putting it on the floor.
Toward the end one of the people in charge brought out the long stuffed toy snake to be auctioned off for the Make A Wish foundation and the snakes name was "Jason Moboa" and it made $500.
Then it was time for them to go and get ready for the Autograph sessions. It was all done by badge number so it took sometime to get to my 300's.
Jason was up first and I had him sign the wp I made, and asked him if he looked at the gift I gave him earlier that day and he looked at me like "what gift" I said that you put it in your case and he said he would look it over when he got back to his room. Also on Jason's table were more signed copies of the full S5 cast…I bit the bullet and paid for one…even though it was a tad over my set spending limit I just could not pass up on getting it.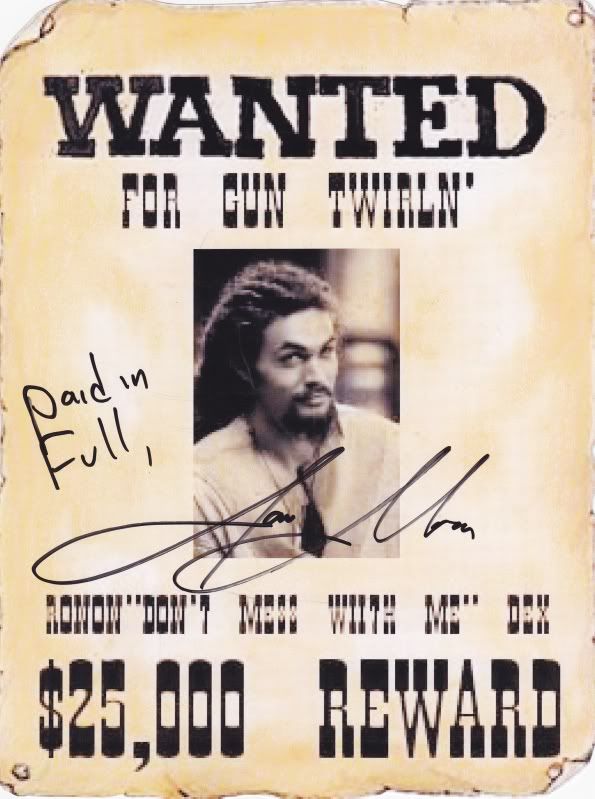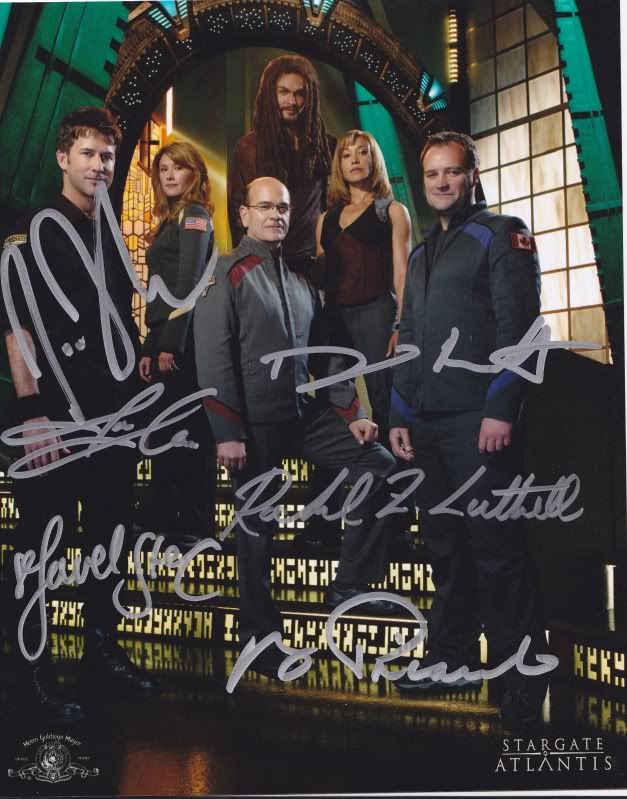 Then came Rachel and I just had her sign a standard pic I bought in the dealers room since I did not like the way her wp came out.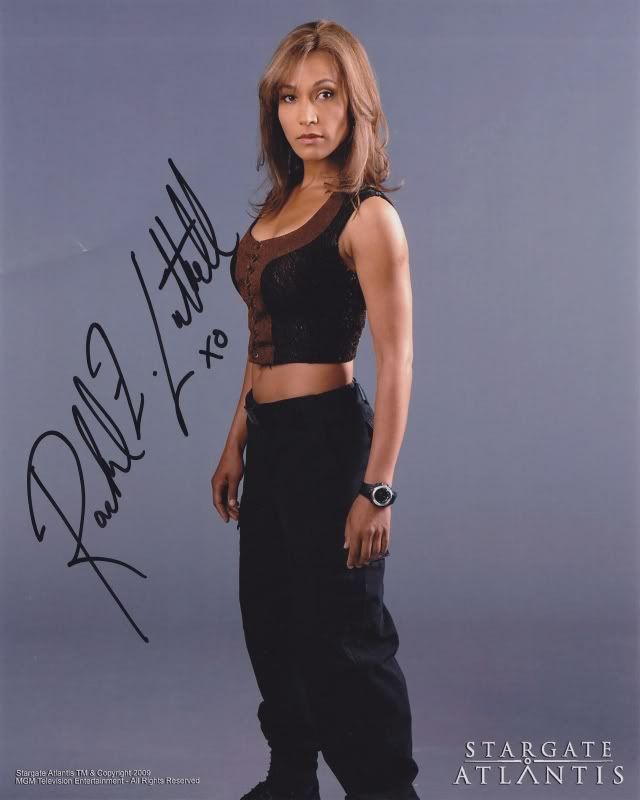 Then came Bob and Ethan.
I gave Bob his wp gift and he sort of poo pooed so I had him just sign a pic he had on his table and asked Ethan to sign one of him as Neelix.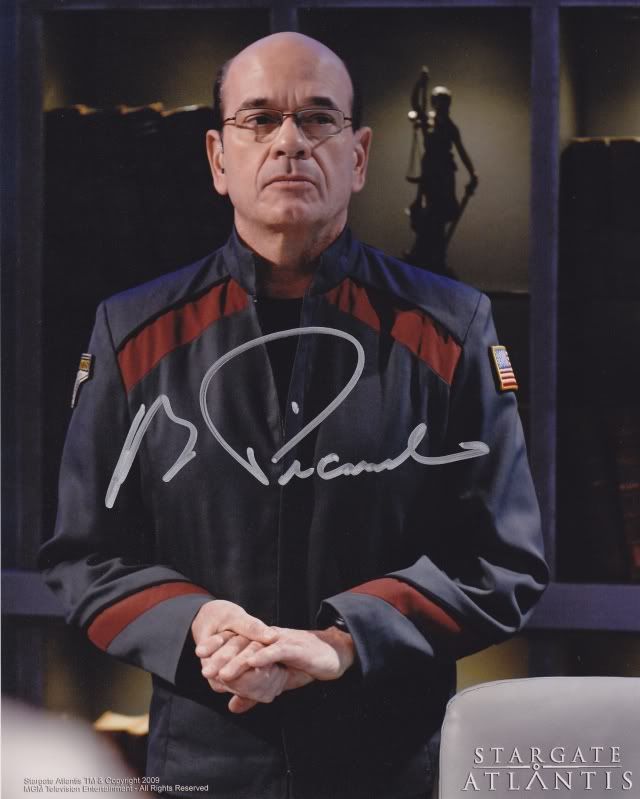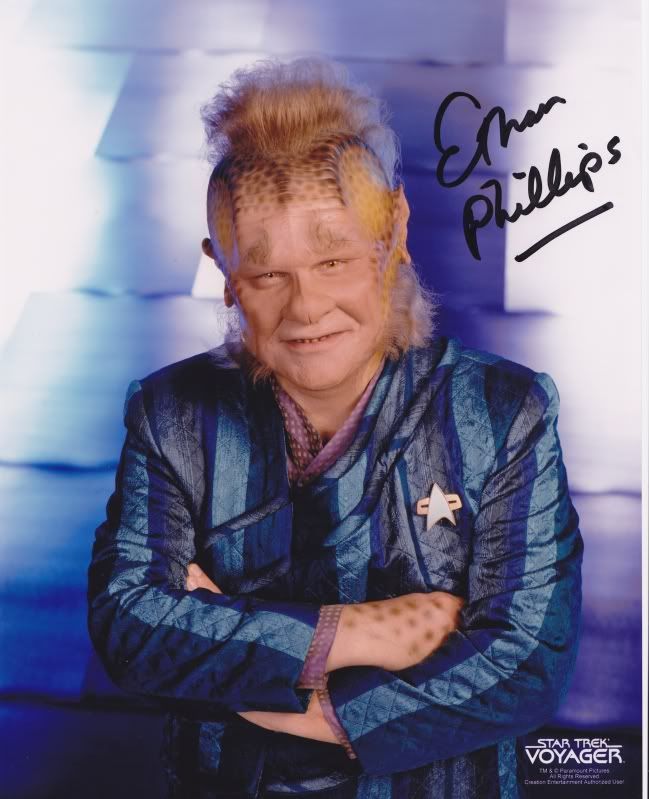 End of line
I then spotted NaniWahine again and another member from the Jason Momoa forum and we chatted for a bit and then we had someone take our picture with the Stargate in the back ground.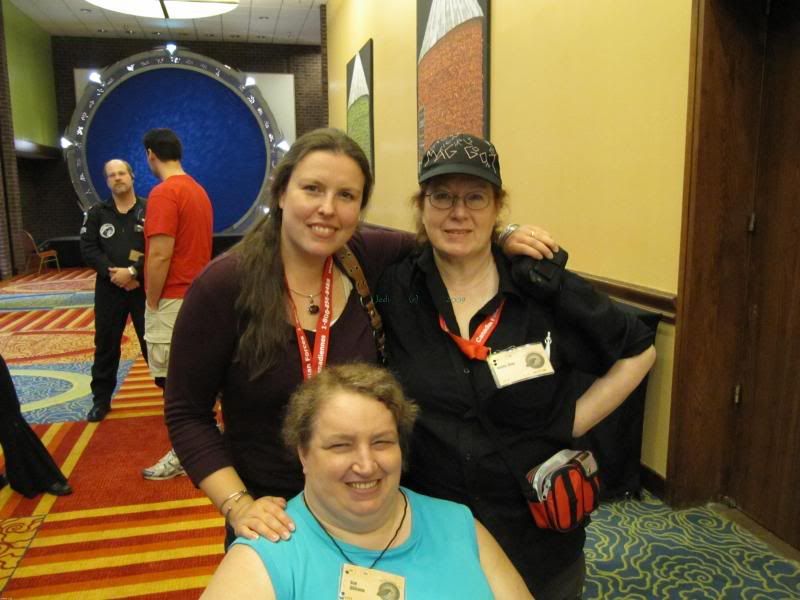 Then I made it up to the main level and grabbed something for dinner and went up to my room to relax before that night special event with Bob.
I was stunned to see as I walked in the room Shep AF trying to log onto the net via the keyboard they had in the rooms.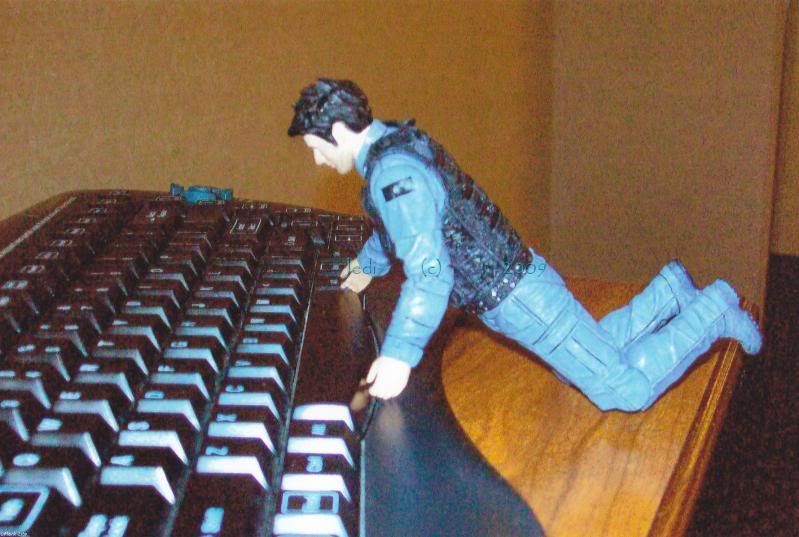 Good thing his reach was not that good or he would have added to the bill.
After some TV I headed back down to the lower level got my other op pics and saw Chris again and I said hi to him again. I called him by his first name every time I saw him like we were old friends and he never minded it at all.
I made it to Vic's place (where they do Karaoke ever Sat night) and found a seat near the area where the victims … I mean con goers sang. And no, I did not do any singing.
Some where very good …others not so much.
The after waiting for about 45 minutes Bob arrived at last. I was hoping he was going to sing some of his parodies, but not this time... though he did adlib

during the long breaks
Bob doing Karaoke
www.youtube.com/watch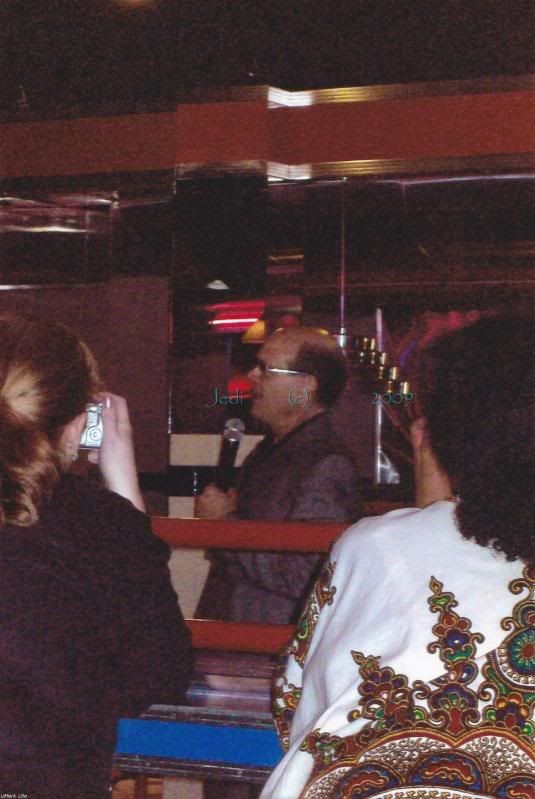 Funny it did not look that dark in there to me.
He did 4 songs total and then left so others could get their turn again. I split and headed back to my room.
After a few hours of TV I zonked out and got ready for the last con day.
TBC…..